"A helping hand when you need it!" Arrow Lifts are a Local Cornwall based company with over 50 years experience
Low Cost solutions
We rent stairlifts throughout Cornwall for straight stairs with a one off installation fee of £350 and from £50 per month, installed by Cornwall's premier stairlift hire company
Installation
Our engineers have over 50 years of experience in the lift and stairlift industry so rest assured the installation will be to the highest of standards.
Options Available
Circumstances change which is why we are flexible in our approach and offer the chance to purchase your rented stairlift, upgrade to new or refurbished the choice is yours.
Maintenance Included
No need to Worry about unexpected repair bills, having to manage without your stairlift all maintenance costs are included in your monthly stairlift rental hire, so relax enjoy the ride.
NO! Long term commitment, No Large initial down payment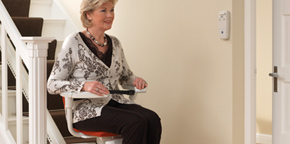 To find out more about our stairlift rentals browse our website or call us
We charge a one off installation fee, and all that we ask is that you hire the stairlift for a minimum of 3 months.
Affordable, Flexible, Reliable Excellent customer service
Please call for more information about our services and commitment to customer care
We offer a genuine 24 hour emergency callout, so no matter what time of day or night it is you can be assured of a 1st class service.
Stairlift rental


Low Cost stairlift rental
No maintenance costs
Low stairlift install fee
Genuine 24 hour callout
Just 3 months minimum
Stairlift upgrade options
Cornwall's stairlift rental experts